KoboldCon is the premiere tabletop gaming convention in Colorado Springs, presenting a huge variety of gaming opportunities and geekery right along the Front Range.
This will be KoboldCon's THIRD successful year and we could NOT be happier you are considering attending!
KoboldCon attendees can also enjoy a number of fun and exciting events throughout the weekend!
Virtual Tabletop Gaming Interested in attending KoboldCon, but can't make it here in person? We will also have PLENTY of Virtual Tabletop Games available through our partner applications like Roll20 and Fantasy Grounds!

Click here for more info on our Special Guests for 2019!!
Robert J Schwalb - Creator of Shadow of the Demon Lord
Stephen Radney-MacFarland - Paizo; Senior Designer, Pathfinder 2
Beth Damis - CFO Penny Arcade
Tonya Woldridge Opm - Paizo; Manager of the Pathfinder Society
Terry Pavlet - D&D / RPG Artist and 2019 Badge Artist
Alex Kammer - Game Hole Con; 5E Author; Frog God Games
Michael Surbrook - Evil Beagle Games; Prowlers&Paragons
Sean Patrick Fannon - Evil Beagle Games; Freedom Squadron
Brian Berg - Total Party Kill Games
Skeeter Green - Skeeter Green Productions / Frog God Games
Lloyd Metcalf - Fail Squad Games, D&D Artist, AppleCon
James Lewis - The most unfamous person in the gaming industry

If you're interested in some AWESOME tournament game play, KoboldCon is the place to be on April 26-28!!
With your Gamer Day Pass or Weekend Badge you get ONE FREE Tournament Entry Ticket.
This is good for entry in to any of the 10+ tournaments we have going on over the weekend!
Check out this list of awesome tournies:
Hearthstone Tavern Hero Qualifier

Game Console Tournaments

Super Smash Bros

Star Wars Destiny (tentative)

Star Wars Imperial Assault (tentative)
---

Game Masters are now able to list games and demos via our event registration system right here on Tabletop.events. Click the "Submit Events" button or click here to register your event.
To schedule larger scale events such as tournaments, group games, or similar events, please contact us to help arrange space and resources as needed. Visit our events page for additional details: Click Here
To register your game at KoboldCon, click here!

We host a range of gaming-related dealers and exhibitors from across the Front Range and across the country!If there is a game you play, the chances are you will find a dealer with some great deals at the Con!
With an awesome "Artist's Alley" and terrific cosplay events, KoboldCon promises to be a tremendous experience for gamers and geek culture fans of all types!
Come to the show as a Visitor to just to see the booths, or get a Gaming Badge and hang out with other gamers from around Colorado Springs and across the Front Range for the whole weekend!
You'll find both popular and hard-to-find games, rare toys, gaming aids, mint comicbooks, art prints, hand-crafted goods, and gaming-themed clothing and accessories.
To find out more, or to sign up for vendor space at KoboldCon 2019, Click Here: Apply to Exhibit and/or Sponsor

KoboldCon offers great discounts for individuals and groups who can help out during the convention. We offer very flexible volunteer hours to meet your schedule and still allow you ample time to game! Come out join the crew! For more information, or to sign up to volunteer - Email Us: events@koboldcon.com

Whether you are looking for a featured sponsorship or an ad in our convention program, we offer a variety of sponsorship packages suitable suitable for your needs. Link: Apply to Exhibit and/or Sponsor

The spacious and convenient Chapel Hills Event Center is 30k square feet of Gaming Goodness located in the lower level of the Chapel Hills Mall at 1710 Briargate Blvd, Colorado Springs, CO 80920. Look for more information on our Venue page.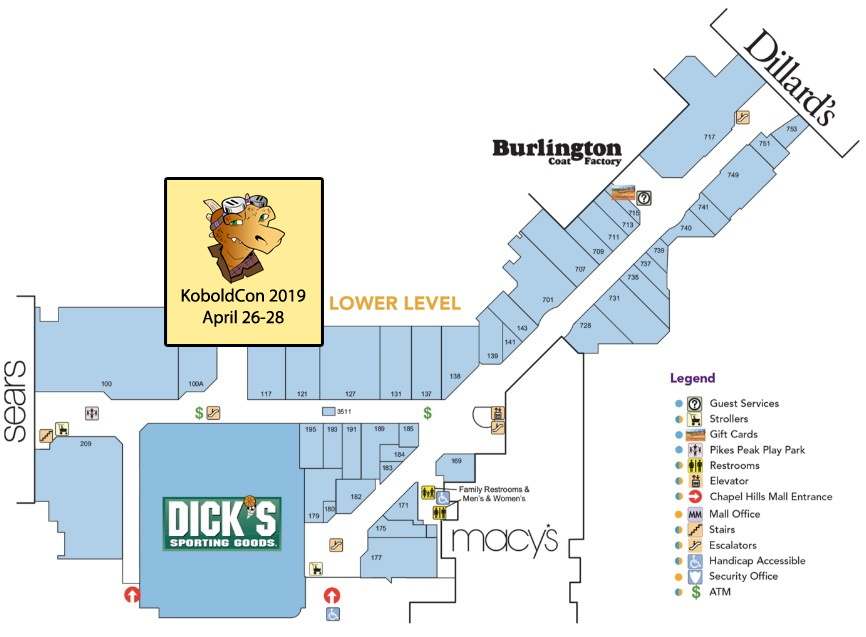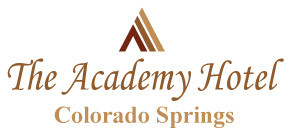 KoboldCon 2019 is proud to partner with The Academy Hotel for both AMAZING lodging rates over the weekend, as well as serving as our Special Guest hot spot over the weekend! Journey on over for our meet and greet, as well as great drink specials all weekend!
Just mention that you are with "KoboldCon" when you call for the group rate!

HOW DOES MY GROUP, STORE, OR I GET INVOLVED? Shoot us an email with your contact information and let us know how you would like to be involved. Below for are some ideas and additional information:
Gaming Clubs or Organizations. We offer discounts for members of local gaming clubs and organizations, and we will have a table for flyers and other promotional information for your group or upcoming event. Organizers can contact us to qualify and arrange a discount code for members who purchase their tickets online. Your group or organization can also earn discounts by volunteering to help at the con. Interested in Volunteering? Email Us: events@koboldcon.com

Local Business. We thrive on local business partnerships! If you would like to offer goods and services to our guests, please contact us. Businesses interested in purchasing vendor space at the convention, sponsoring features or tables, advertising in the program, or exchange prize support for promotion at the con should contact us directly. Interested in sponsoring? Email Us: events@koboldcon.com

Individuals may participate as players and event organizers, and need not be part of a larger group to do so. See our Volunteers and Events pages for details. Email Us: events@koboldcon.com

KoboldCon is organized, staffed, and promoted by members of several different local organizations, including: Colorado Springs Tabletop Gaming (link), Colorado Gaming Conventions, Lair of Wonders Productions, and Colorado Toy & Comic Society. The convention is financed by Kobold Company LLC. Sales of tickets and merchandise, vendor fees and sponsorships are also managed by Kobold Company LLC. Kobold Company and Kobold Company LLC are Internet-based, gamers-first organizations dedicated to producing game-related content and organize events.